We are glad to present you our country catalouge! With two easy steps you'll find the right songs:
1) Here is the download link to a pdf-file with the catalouge numbers: Liva Music – Songs en
(catalogues numbers are in red like this -> LM0001)
Notice or copy one number and…
2) ….go to http://www.livamusiclibrary.ch/de/    and insert the number into the search field. Then you can listen to the songs.
Here an example: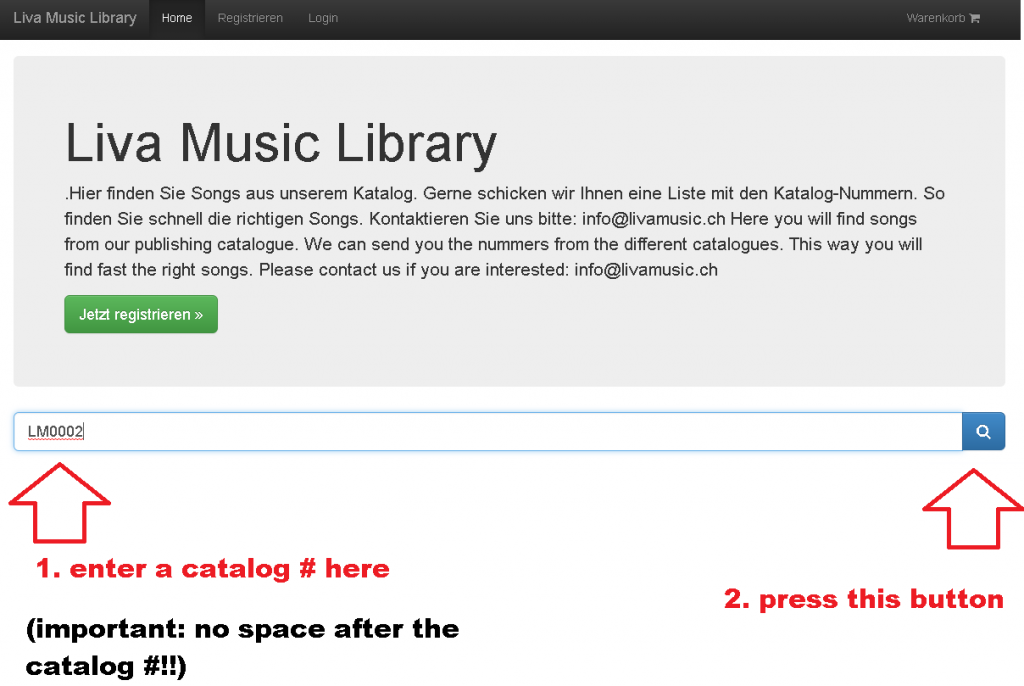 Important: no space after the catalogue number…write just the catalogue number into the searchfield and press 'enter' or the button on the right side.
Liva Music – Website Tutorial
If it not works, please contact us! info@livamusic.ch
Here are some FAQ and the answers:
"Can I buy a song from you?"
Songwriters and music publishers don't sell the rights on their songs. As music publisher we will give you the permission to record and release the songs. But the publishing-rights will remain with the publisher and songwriter.
"How much do I have to pay if I want to record and release your songs?"
It depends on how many CD's you are planing to press.
It doesn't matter if you release an original song, a coverversion or a song that you wrote, the costs are the same (if the song has the same length). You'll find more infos and an example here:  Liva Music – Artist Info English FAQ
"How much do we have to pay to you as publisher?"
You just have to pay the mechanical licence to your PRO. You don't have to pay us anything.
But it is common to send a CD to the publisher and to each songwriter. This make sense, then it is also in the interest of the songwriters and publisher that you has as much success as possible and we will be glad to help you with the promotion.
"And how do you earn money as publisher?"
As publisher we have a contract with the songwriters and we will get a part of their income.
"Are all the songs that you have in your catalouge are original unreleased songs?"
Most of our songs are original songs…that means….they were never released before. But it can be that some songs were released with an independent artists. It happens often that songwriter place their song in different countries with different artists. Normally this is no problem since each artist will sell his CD's mostly in his/her area and each artists has his/her own fanbase. And indpendent artists don't press a lot of CD's and they reach just the fans in their country. I'm sure that your fans are just interested in your version ;o)
If you want to be 100% sure that you will be the first one who release a song then please contact us. We will then ask the songwriter if the song was released before and where.
"o.k we are interested in a song from your catalouge. What do we have to do?"
1)  Please contact us and let us know, which songs you are interested in and what your plans are. (When do you want to release the CD and how many CD's you would like to press)
2) We will contact the songwriters to see if the song(s) is still available. (we have a fair deal with our songwriters and we let them a lot of space. It can be that some of the songs are not available. But normally the songwriters are keeping us up to date and when something is changing with a song then they let us know. We placed a lot of songs in the past and so far, all the songs were still available.
3) When all is o.k. with the songwriters then we will give you the permission to record and release the song.
4) You have to put the songwriter and publisher name in the booklet of your CD. It would be good when you could send us a copy of the booklet before you send it to the press-factory. This way we can check all the names and we will be sure that there will be no mistake in the booklet.
5) It would be wise to contact your PRO early. Finally they will give you the permission that you need to press the CD's. There will be some paperwork to do and that all needs some time.
6) Keep us up to date. We will be glad to help you with the promotion. We have some good connections to the european radiostations and also to some medias.
If you have any questions feel free to contact us:
info@livamusic.ch
info@songwriter.li
www.livamusic.ch
Tel: 027 455 26 32